WANT HELP WITH SHOULDER PAIN?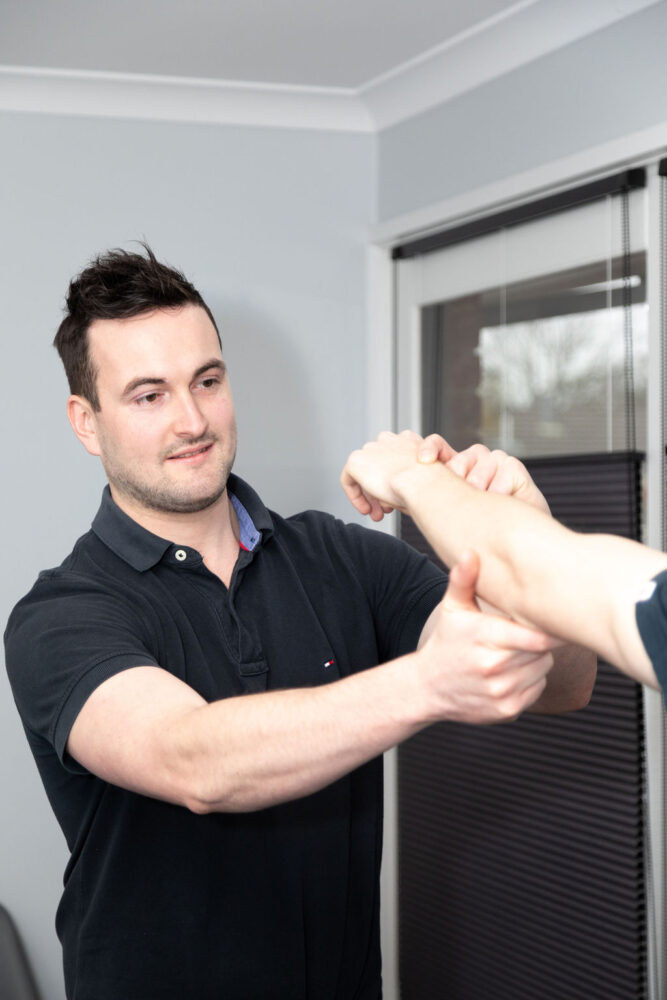 Shoulder Pain Treatment
INJURED YOUR SHOULDER AND NEED SOME ANSWERS?
Shoulder injuries can be really frustrating because we need our arms for almost everything we do – eating, dressing, driving, and brushing our teeth.
The Shoulder joint has many surrounding muscles, tendons and bursa which can cause pain.  Other areas can also refer pain to the shoulder such as the neck, elbow and even organs like the lungs, pancreas and gallbladder.
Our osteopaths dig deeper by asking lots of questions about your symptoms, lifestyle and diet so we can more accurately diagnose your injury.
Choose Your Osteopath
OUR OSTEOPATHS ARE EXPERIENCED IN TREATING SHOULDER PAIN AND INJURY
I enjoy treating
Rotator Cuff Injuries
Shoulder Impingement
Decreased Range Of Motion
I enjoy treating
Referred Pain From The Neck
Mobility Pain
Thoracic Outlet
I enjoy treating
Sports Performance
Arthritis
Shoulder Bursitis
Why Waste Time?
CHOOSE YOUR OSTEOPATH AND BOOK ONLINE OR CALL AND WILL MATCH YOU WITH THE BEST OSTEOPATH TO TREAT YOUR SHOULDERS
WHY ARE SHOULDER INJURIES SO COMMON?
Shoulder pain can be difficult to treat because although it is a simple ball and socket joint it is a really shallow one. This allows for huge amounts of movement at the cost of stability. The size of the joint connecting the arm to the chest (or thorax) is about 3.5cm. That means our whole arm is only hanging via a joint connection that is roughly the same size as a 50c piece! Because of this, we have lots of muscles around the joint to increase its stability. And this is where many injuries occur in the muscles and tendons.
SHOULD I BE CONCERNED ABOUT THE CAUSE OF MY SHOULDER PAIN?
We ask a lot of questions so that we can assess whether there is anything to be concerned about with your shoulder pain. Worrying signs could be when pain is constant and not changed by activity, when there is night pain, and if there is severe pain that continues unchanged for 4 weeks or more. We may also ask questions that are seemingly unrelated such as "do you sweat at night?". These can all indicate there is a problem that needs specialist attention immediately.
TRIED OTHER TREATMENTS FOR SHOULDER PAIN BUT NOTHING SEEMS TO WORK?
There may be one or more of these factors causing shoulder pain, posture, instability, overuse, tendon damage, nerve problems, bursitis, impingement or arthritis. With over 50 years combined clinic experience, we've treated just about every kind of shoulder pain there is and we would love to help you.
DO YOU HAVE QUESTIONS?
Call 5941 4157 or talk to us via the chat box to have your questions answered straight away.
MORE ABOUT SHOULDER PAIN AND INJURIES
Shoulder Anatomy
The shoulder (glenohumeral joint) is a very shallow ball and socket joint.  This allows for greater mobility in the joint but because of this, the joint is very unstable.  To provide that stability, the joint is layered with muscles that help to secure it in place. It is the surrounding muscles that provide the joint stability so clearly lacking in the bony skeleton.  And as such, they are prone to injuries.
It is a complicated region comprised of multiple joints including the glenohumeral joint (mentioned above), the acromioclavicular "AC" and the sternoclavicular joints. These joints are stabilised by many ligaments and muscles including the rotator cuff, other stabilising muscles and their attaching tendons.  
The shoulder is also the site where veins, arteries, nerves, lymphatic vessels and glands are located, which are vital to the function of the whole arm.
Shoulder Injuries
The shoulder is a highly mobile joint and allows for 180 degrees rotation in three different planes. While it's great to have a lot of movement, this also makes it more vulnerable to injury than other, more stable joints. Common injuries to the shoulder include:
This is a muscle tear or tears to the main stabilising muscles that surround the shoulder.  These include supraspinatus, infraspinatus, teres minor, and subscapularis. Injuries can occur following a single violent blow to the shoulder, a fall, from lifting or pulling, following prolonged or repetitive actions like overhand throwing, or from pre-existing impingement syndrome.
Inflammation of the muscle tendons can result from similar causes as rotator cuff strains. Ongoing tendon injuries can be a chronic source of pain and lead to degeneration of the muscle's tendon.
A tear of the glenoid labrum is a tear of the wrapping that helps gives stability to the very shallow joint.  Characterised by pain with overhead or cross body activities, this injury can often occur in conjunction with other shoulder injuries.
The causes of shoulder instability are vast including traumatic dislocation or labral tear, congenital or acquired ligament laxity, muscle imbalances or joint malformation.
Also called adhesive capsulitis, this condition is characterised by marked reduction in many ranges of shoulder movement. Almost every movement is limited and painful.
There are 6 grades of severity for this injury resulting in shoulder separation. Contact sports, motor vehicle accidents and falls are often responsible for this injury and result in a visibly lowered shoulder in severe cases.
Pain can be referred to the shoulder from a number of areas. The neck or upper back can refer to the shoulder. Similarly, disc herniation can cause compression onto the nerve roots that descend toward the arm. Organs such as the heart commonly refers to the left shoulder as in a heart attack or angina. While digestive complaints such as gall bladder pathology can refer to the right shoulder.
Many other postural influences may affect the biomechanics of the shoulder, predisposing the soft tissues to some of the injuries listed earlier.
HOW YOUR OSTEOPATH CAN HELP
It is important to see your osteopath for diagnosis of your shoulder pain. A session with an osteopath will include taking a thorough history and examination before arriving at a diagnosis.  
Osteopathic treatment will aim at improving the function and movement of the shoulder and decrease any tension in the associated muscles.  We may use a combination of soft tissue massage, stretching, muscle energy techniques, joint mobilisation and possibly joint manipulation.
Your osteopath will also want to address any strain through the low back, pelvis and thorax which may be causing altered muscle tension in the shoulder or poor posture.
To complement the treatment, we may also provide some stretching and rehabilitative exercise as well as offer advice on how to improve your posture and lifestyle habits. 
At the end of the initial consultation we always provide a management plan that has your individual goals in mind, so we know where we are headed.  It details the diagnosis, timeframes that you can expect for recovery, how many appointments you will require and any exercises or stretches that may help.
We are also highly trained to detect if specialist referral is needed, for example if rheumatoid arthritis was suspected.  In this case, we may refer you to your GP for further investigations or other tests to help in management.
Latest posts by Dr Shane Peace
(see all)