CLINICALLY PROVEN, PAINLESS & NON-INVASIVE TREATMENT FOR PAIN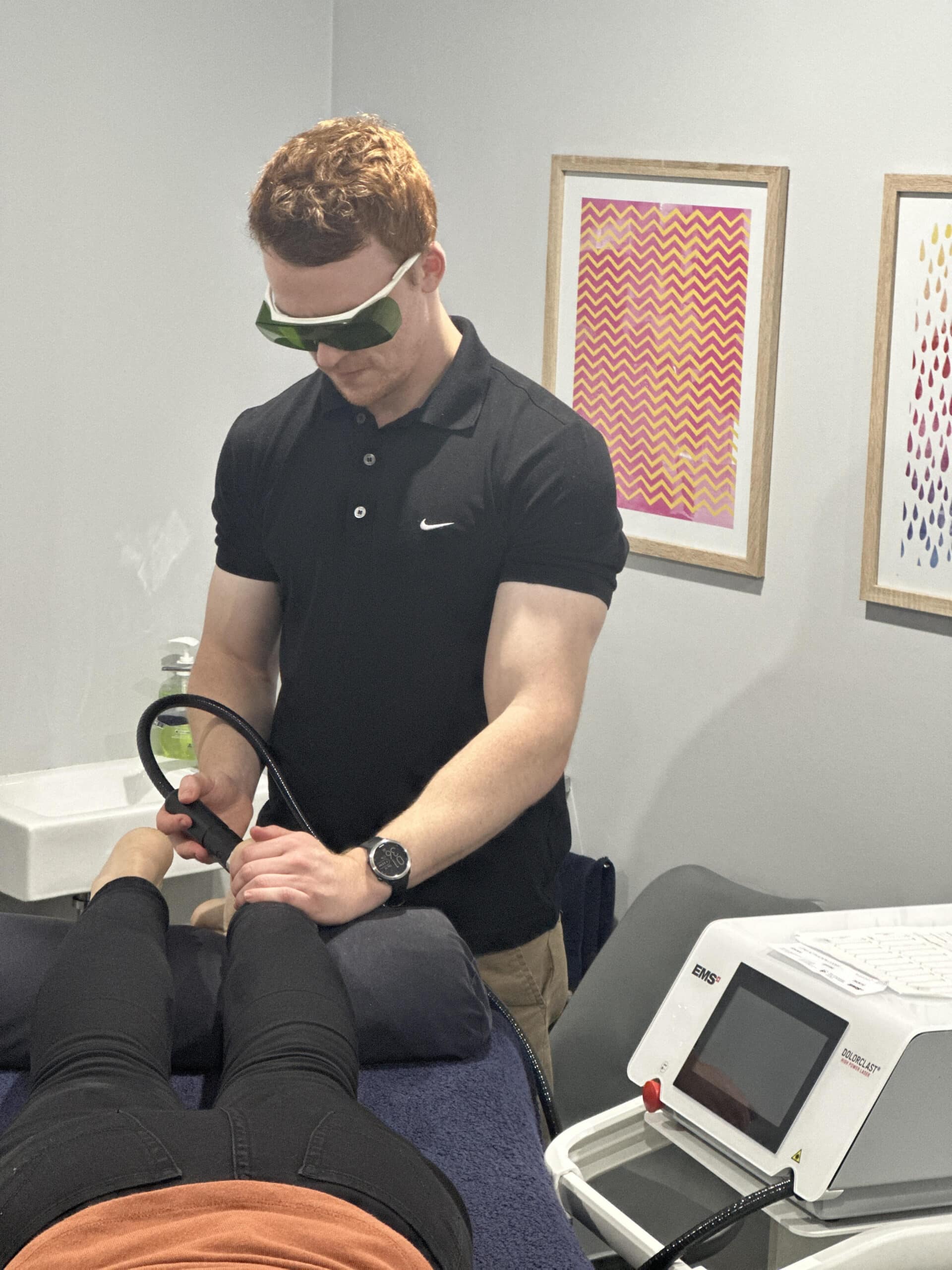 No More Pain!
LASER THERAPY USES POWERFUL BEAMS OF LIGHT TO HELP PAIN AND INJURY
High Power LASER therapy is a brand new, cutting-edge technology for the treatment of acute musculoskeletal pain – that includes muscles, tendons, ligaments and joints. It offers a non-invasive, painless solution to clients suffering from pain or those who have a low-tolerance threshold of pain.
NO SURGERY = NO DOWNTIME
NO INJECTION = NO COMPLICATION
NO PAIN MEDICATION = NO ADDICTION
Pain, tight, sore, stiff, loss of mobility – so many symptoms of musculoskeletal disorders which can affect muscles, ligaments, tendons, joints and bones. Whether caused by repetitive movements at work, an injury in your daily life or as a result of ageing, these common ailments alter the way your body performs. However, there is a natural and clinically proven way to help with these issues.
Choose Your Osteopath
WE TREAT MANY CONDITIONS WITH LASER THERAPY
I ENJOY TREATING
Plantar fasciitis
Sacroiliac joint pain
Gluteal tendinopathy
I ENJOY TREATING
Gluteal tendinopathy
Patella tendinopathy
Osteoarthritis
I ENJOY TREATING
Plantar fasciosis
Gluteus medius tendinosis
Patella tendinosis
I ENJOY TREATING
Sacroiliac joint
Tennis elbow
Brachialis tendinopathy
I ENJOY TREATING
Hip tendinopathy
Shoulder impingement
Pre and post natal care
I ENJOY TREATING
Gluteal tendinopathies
Lateral epicondylitis
Hamstring tendinopathy
I ENJOY TREATING
Plantar fascia
Gluteal tendon
Sub acromial Bursitis
Which Osteopath Should You See?
CALL AND WE WILL MATCH YOU WITH AN OSTEOPATH OR CHECK OUT THE CONDITIONS THEY LIKE TO TREAT AND BOOK ONLINE
WHAT CONDITIONS CAN LASER THERAPY HELP?
LASER is designed to treat any condition of the musculoskeletal system.  That means any muscle, tendon, ligament or joint pain that you experience can be treated by LASER. Some of the more common conditions include:
Upper back pain

Low back pain

Arthritis

Tendon injuries

Tennis elbow

Shoulder pain including rotator cuff tendinopathies, adhesive capsulitis, bursitis

Carpal tunnel syndrome

Degenerative disc disease

Spinal arthritis

Gluteal tendinopathy

Golfers elbow

Patella pain

Knee arthritis

Plantar fasciitis

And much much more…
HOW DOES LASER THERAPY WORK?
LASER therapy triggers two main types of effects in the targeted area: 
Analgesic effect

: It decreases pain by temporarily inhibiting the pain receptors in the treated area.  This can also help to reduce reliance on pain medication.

Anti-inflammatory effect:The DolorClast® High Power Laser decreases the amount of Prostaglandin E2 (PGE2) – a fatty acid derivative responsible for mediating acute inflammation. When released in the tissues, PGE2 leads to dilatation of blood vessels, which in turn manifests as redness and swelling. By mimicking the effect of nonsteroidal anti-inflammatory drugs (NSAIDs) while protecting clients from their side-effects and possible addiction, high power laser therapy effectively kick-starts the healing process.
DOES LASER THERAPY HURT?
No, the treatment is not painful at all! In comparison to other high power lasers, the patient perceives almost no thermal effect. This is thanks to the specially selected wavelength and short pulse duration of 100 ns, which keep the treated tissues below the thermal threshold and avoid the risk of burns. To be certain to avoid thermal heating, the action mode: "Hypersensitive" further avoids the risk of burns in certain patient groups and application areas, such as tattoos, sensitive skin etc.
HOW LONG DOES IT TAKE TO SEE RESULTS?
A powerful analgesic (pain relieving) effect will be felt 5 minutes after the end of the Laser treatment and is. In addition, the decrease of acute inflammation kicks in 60 minutes after the end of the laser session, leading to quick absorption of edema and faster healing in the damaged tissue.
HOW LOND DOES THE TREATMENT LAST & HOW OFTEN WILL I NEED IT?
A single treatment of LASER lasts 3 minutes in total.  Most clients see a reduction in pain within 5 minutes of having LASER. How many treatments a client will need depends on the severity and for how long the injury has been present. The ideal LASER protocol is 3 sessions within 7 days, then 2 per week for up to 10 sessions. As a guide, expect 3-5 sessions over 1-2 weeks for most presentations. 
WHEN CAN I RESUME NORMAL ACTIVITIES AFTER A LASER SESSION?
Daily activities can be resumed immediately after the session, since Laser treatment does not require any down-time. Indeed, thanks to the analgesic and anti-inflammatory actions of the laser, you are likely to feel much better even after the first session.
We Help People Like You
MANY NEW CLIENTS TRY LASER THERAPY TO HELP EASE THEIR PAIN
REFERENCES:
1. https://www.who.int/news-room/fact-sheets/detail/musculoskeletal-conditions
2. Rompe, Jan D et al. "Repetitive low-energy shock wave application without local anesthesia is more efficient than repetitive low-energy shock wave application with local anesthesia in the treatment of chronic plantar fasciitis." Journal of orthopaedic research : official publication of the Orthopaedic Research Society vol.23,4 (2005): 931-41.
3. Mezawa, S et al. "The possible analgesic effect of soft-laser irradiation on heat
nociceptors in the cat tongue." Archives of oral biology vol. 33,9 (1988): 693-4.
4. Bjordal, J M et al. "A randomised, placebo controlled trial of low level laser therapy for activated Achilles tendinitis with microdialysis measurement of peritendinous prostaglandin E2 concentrations." British journal of sports medicine vol. 40,1 (2006): 76-80; discussion 76-80.
Call or Book Online to schedule your laser therapy appointment and experience for yourself what a difference easing pain, restoring movement and improving body function can make to many areas of your life! Located near Longwarry, Maryknoll, Drouin, Cockatoo, Tooradin, Clyde and Cardinia.
Latest posts by Dr Shane Peace
(see all)