WANT HELP WITH POSTURE CORRECTION AND ERGONOMICS?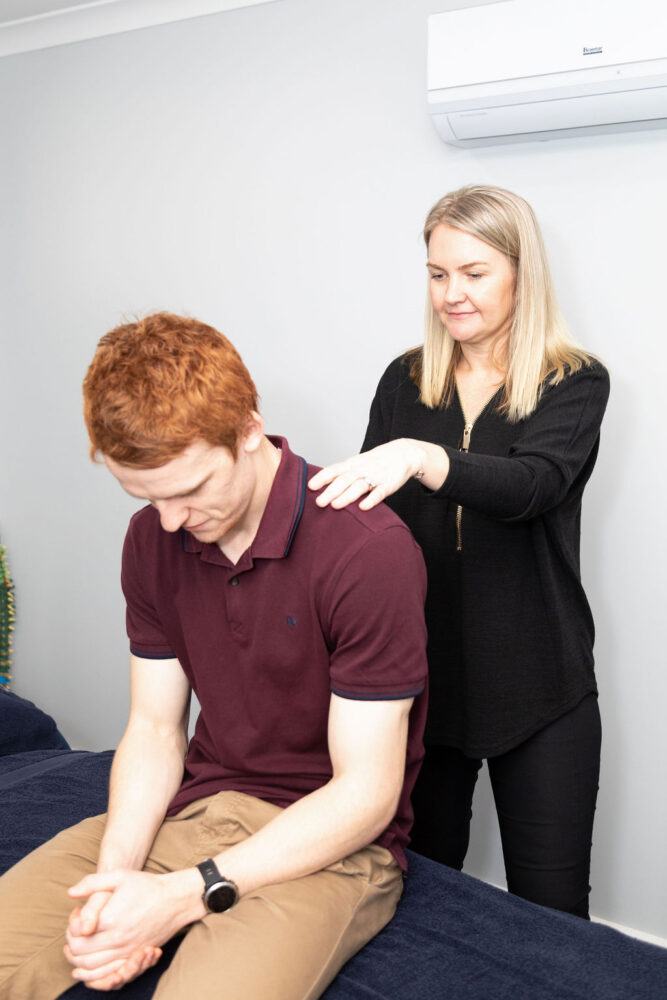 Posture Correction and Ergonomics
ARE YOU STIFF AND SORE FROM SITTING AT A DESK ALL DAY?
Many adults spend over 11 hours a day sitting!
It is advised that we should aim to sit for only 4 hours per day – that's not very much when you consider the commute to work, desk work, eating meals seated, and we often slump on a couch at night watching TV.
Our Osteopaths can provide you with strategies to break up the time you sit and alter your posture and ergonomics so that aches and pains may be minimised.
Choose Your Osteopath
OUR OSTEOPATHS ARE EXPERIENCED IN TREATING POSTURE RELATED PAIN AND INJURY
I enjoy treating
Spinal Dysfunction
Upper Back Pain
Headaches
I enjoy treating
Chronic Postural Issues
Back Injuries
Desk workers
I enjoy treating
Complex Neck Problems
Degenerative Spinal Conditions
Neck Pain
Don't Wait Any Longer?
CHOOSE YOUR OSTEOPATH AND BOOK ONLINE OR CALL AND WILL MATCH YOU WITH THE BEST OSTEOPATH TO CORRECT YOUR POSTURE
SITTING DOWN CAUSES POSTURE PAIN
Sitting puts 40% more pressure through the spine. And leaning forward whilst sitting places puts 90% more pressure on your spine than standing. So it's no wonder back pain is one of the most common reasons we present to GPs. Our osteopaths can work with you by addressing your specific circumstances to get your body moving more and feeling better.
POSTURE PAIN IS SERIOUSLY BAD FOR OUR HEALTH!
Physical inactivity is the 4th leading risk factor of death globally. A sedentary lifestyle can also increase the risk of serious illnesses such as heart disease, diabetes, obesity and cancer by a whopping 147%. Our osteopaths can help make corrections to your posture, your lifestyle habits and you workstation ergonomics so that you move and feel better.
TRIED DIFFERENT TREATMENTS BUT NOTHING SEEMS TO WORK?
Poor posture can result in headaches, neck strain, sore shoulders, upper and lower back ache, inflexible spines, weak abdominal muscles, shortened hip flexor tendons and weak gluteal muscles. We also know that exercise CANNOT completely counteract the negative effects and health risks from sitting and poor posture. Our osteopaths can advise on home or gym based exercise programs to get you moving again.
DO YOU HAVE QUESTIONS?
Call 5941 4157 or talk to us via the chat box to have your questions answered straight away.
MORE ABOUT POSTURAL PAIN AND ERGONOMICS
Postural pain or postural syndrome are all umbrella terms for a condition where people may experience pain that is related to posture. This kind of pain is incredibly common, with the majority of population likely to experience pain related to posture at some point of life.
Commonly, the areas of pain can be the lower back, neck and shoulders. However, the arms, hands, legs and feet can also experience pain that is related to posture. 
CAUSES
Postural pains/strains typically develop gradually and are often due to sitting or standing in poor positions for an extended period of time. There is very rarely an incident of damage or trauma with postural pain, rather, aches and pains are experienced during activities of sustained postures or stress on the body. 
Everybody is different and life will present different demands to each individual and as a result, postural pain can occur for any number of reasons. However some common causes of sustained "poor posture" which could lead to pain are:
Sedentary lifestyle

Lack of education or awareness

Muscle Weakness

Joint Stiffness 

Work demands

Physical Fitness/Weight/nutrition

Workstation Ergonomics

Muscle "tightness"

Pregnancy

Lifting/carrying/bags

Footwear

Age

Body composition

Scoliosis
Whilst there are a great number of factors involved in posture and consequently postural pain, there are some very common presentations that are likely to be related to postural pain.
UPPER CROSSED POSTURE
Upper cross syndrome refers to a common posture that the upper back and neck can adopt as a result of postural stress (eg. computer/laptop use, using phones, reading etc). In this posture, the muscles in the front of the neck and back of the shoulders become strained, whereas the muscles in the back of the neck and chest become shortened and "tight". 
This posture gets its name from the cross (X) shape that is present, representing a muscular imbalance over overactive (tight) and underactive (weak) muscles.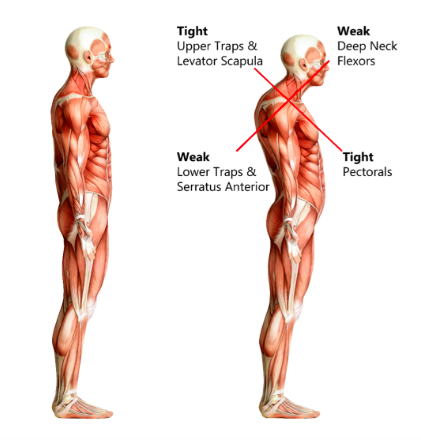 This pattern of muscle imbalance puts a great deal of stress on the surrounding muscles, joints and other structures in the area which can commonly lead to symptoms such as:
Headache – often worse later in the afternoon/end of a work day

Neck pain

Chest pain/"tightness"

Aching in the shoulder pain – often described as "burning"

Tiredness/fatigue

Decreased range of motion in the neck and shoulders

Pain while sitting, working, watching TV, driving etc

Numbness and tingling in the arms

Lower back pain

Often these symptoms are improved with movement or changing position
LOWER CROSSED POSTURE
Also known as pelvic crossed syndrome or distal crossed syndrome, lower crossed syndrome is also characterised by a muscular imbalance. Much like Upper CS, Lower CS is marked by pattern of muscle weakness and "tightness" that occur in the front and back of the hips and pelvis.
The pattern of "tightness" in the hip flexors (front of the hip) and lumbar extensors (lower back) coupled with the weakness in the abdominals and gluteal muscles results in an anterior tilt in the pelvis and increased curve in the lower back. This pelvic/lower back position is not optimal for lower limb function and can result in muscle soreness in the legs, impact performance as well as potentially predispose injury.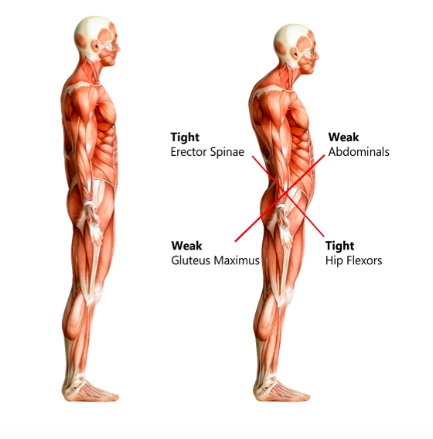 This pattern of muscle imbalance puts a great deal of stress on the surrounding muscles, joints and other structures in the area which can commonly lead to symptoms such as:
Pain in the lower back/buttocks/hip flexors/groin

Reduced range of motion in the hip, pelvis or lower back

"Sway back posture" with a protruding tummy

Increased loading in the lower limb – knee, ankle or foot pain

Hamstring injuries

Tiredness/fatigue

Pain while sitting, working, watching TV, driving etc

Numbness and tingling in the legs

Often these symptoms are improved with movement or changing position

Can lead to compensation in the upper back and neck (upper crossed symptoms)
POSTURE AND YOU
Often people think of "good posture" as standing or sitting perfectly straight, with your shoulders back and your chest out. Really, "GOOD POSTURE" is different for every person and is ultimately the posture that feels painless, effortless or easy. With that being said, our bodies were not made to stand/sit still for long periods of time and as a result the best thing we can do in terms of posture is to move regularly, change position and tune into our body and adjust position as needed.
POSTURE AND ERGONOMICS
During your Osteopathic consultation, your Osteopath will complete a thorough history and examination; encompassing a series of questions, lifestyle assessment, movement and strength testing to determine the causes and areas of your pain. This will allow the Osteopath to identify areas and joints in your body that are stiff and sore, as well as any possible muscle imbalances that need correcting. Your Osteopath will also take time to educate you on how your posture can affect you and your pain and will give you strategies to combat this.
The "hands on" part of the Osteopathic consultation will include a variety of treatment techniques that may include:
Massage

Manipulation (HVLA)

Dry needling

Radial Shockwave Therapy

Stretching

Articulation

Bracing

Taping
These techniques will be aimed at increasing joint movement as well as improving flexibility in shortened and "tight" tissues.
In addition to the manual treatment, your Osteopath will help you to identify areas of your life in which you may adopt sustained "poor" postures (work, sleeping, watching TV, studying etc.) and will educate you on alternate postures, ergonomics and changes that could be made in these areas to improve posture and posture related pain. You may also be prescribed a specific and tailored mobility or strengthening program which will be aimed at addressing lifestyle factors (weight, activity level etc), muscular imbalances and ultimately individual posture.
Latest posts by Dr Shane Peace
(see all)