TREAT STUBBORN PAIN AND INJURY THAT HAS NOT IMPROVED FROM TRADITIONAL TREATMENTS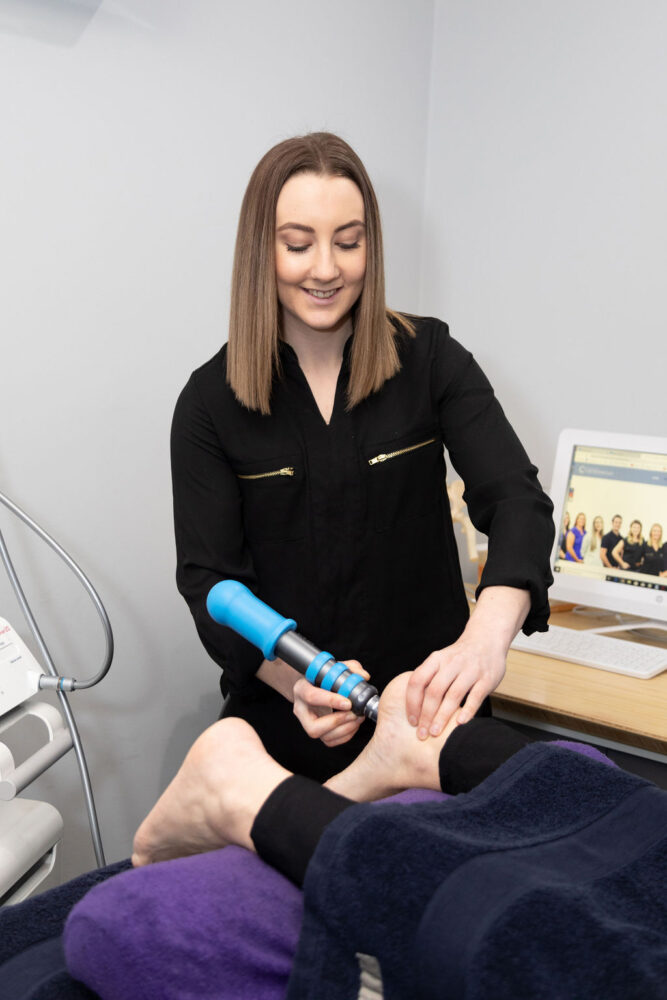 Stop Suffering!
SHOCKWAVE THERAPY USES SOUND WAVES TO TREAT CHRONIC PAIN AND INJURY
Shockwave therapy uses a handheld device pressed against the skin that emits sound waves which penetrate into the injured tissue.
It is clinically proven¹ that when applied to injured tissues, it stimulates:
Pain reduction
Increases of blood circulation
Begins the healing process by triggering stem cells activation
You shouldn't have to suffer. We don't want money to get in the way of your health and happiness so we don't charge extra for shockwave, unlike many other clinics.
Choose Your Osteopath
WE TREAT MANY CONDITIONS WITH SHOCKWAVE THERAPY
I ENJOY TREATING
Plantar fasciitis
Sacroiliac joint pain
Gluteal tendinopathy
I ENJOY TREATING
Gluteal tendinopathy
Patella tendinopathy
Osteoarthritis
I ENJOY TREATING
Plantar fasciosis
Gluteus medius tendinosis
Patella tendinosis
I ENJOY TREATING
Sacroiliac joint
Tennis elbow
Brachialis tendinopathy
I ENJOY TREATING
Hip tendinopathy
Shoulder impingement
Pre and post natal care
I ENJOY TREATING
Gluteal tendinopathies
Lateral epicondylitis
Hamstring tendinopathy
I ENJOY TREATING
Plantar fascia
Gluteal tendon
Sub acromial Bursitis
Which Osteopath Should You See?
CALL AND WE WILL MATCH YOU WITH AN OSTEOPATH OR CHECK OUT THE CONDITIONS THEY LIKE TO TREAT AND BOOK ONLINE
SHOCKWAVE IS A CUTTING EDGE THERAPY USED BY ELITE SPORTS PEOPLE
For the last decade radial shockwave therapy has been used by the AFL, Olympians and even Formula 1 drivers! Pakenham Osteopathy are very pleased to offer this state-of-the-art therapy to help reduce pain and kickstart injury recovery. We do not charge extra for shockwave treatments, unlike other clinics.
HAVE YOU HEARD SURGERY AND CORTISONE INJECTION HORROR STORIES?
Shockwave therapy might be a better option. It is a non-invasive alternative to cortisone or surgery, and it has a high success rate. In fact, studies¹ have found that shockwave treatments have up to 80% success rate – that's 4 out 5 people achieving positive results! So before you go for a jab or under the knife, give shockwave a go.
CONDITIONS SHOCKWAVE IS USED TO TREAT
Shockwave therapy is a pain relief treatment approach that may be effective in many CHRONIC musculoskeletal conditions, including, plantar Fasciitis, achilles tendinopathy, calcification of the shoulder, patella tendinopathy, tennis or golfers elbow, hamstring tendinopathy, shin splints and arthritis.
DO YOU HAVE QUESTIONS?
Call 5941 4157 or talk to us via the chat box to have your questions answered straight away.
We Help People Like You
MANY NEW CLIENTS TRY SHOCKWAVE TO HELP KICKSTART THEIR RECOVERY
REFERENCES:
For all the latest research on shockwave therapy: 1 https://www.swissdolorclastacademy.com/
MORE ABOUT SHOCKWAVE THERAPY
Radial shockwave therapy uses high pressured acoustic shockwaves that travel through the skin to break down targeted tissue and stimulate tissue repair. Essentially it kick-starts the body's natural healing mechanisms by increasing circulation to a chronically injured site which in turn speeds up the healing process¹.
Shockwave therapy can be used where previous conservative management has failed to resolve notoriously stubborn complaints.
HOW SOON WILL I SEE RESULTS WITH SHOCKWAVE THERAPY?
Patients may experience pain reduction and a greater range of movement immediately after the procedure. This is can be temporary, however real results are seen after a few days when the injury begins to heal. Depending on your condition, healing can take weeks, however pain relief usually precedes this.
HOW DOES SHOCKWAVE THERAPY WORK?
Increasing circulation

Breaking down calcification deposits

Stimulating fibroblast (soft tissue cells) production – healing ligaments, tendons, muscles…

Stimulating osteoblast (bone cells) production – healing bone

Stimulating the "gate-control" mechanism for pain relief

Inhibiting Cox II Enzyme, producing an anti-inflammatory effect
WHAT DOES A SHOCKWAVE THERAPY SESSION INVOLVE?
Radial shockwave therapy is a non-surgical procedure. A contact gel is applied to the area, then a hand held probe is applied to the skin. The probe delivers the acoustic waves in a controlled and focused manner for typically 4 minutes per injured area.
WHAT DOES A COURSE OF SHOCKWAVE THERAPY INVOLVE?
A course of shockwave therapy usually consists of 3-5 treatments with appointments no more than 1 week apart. Conditions that more chronic or significant in nature are likely to require the longer treatment course.
TAKE THE FIRST STEP TOWARDS FEELING BETTER TODAY!
Call or Book Online to schedule your first shockwave therapy appointment and experience for yourself what a difference easing pain, restoring movement and improving body function can make to many areas of your life! Located near Longwarry, Maryknoll, Drouin, Cockatoo, Tooradin, Clyde and Cardinia.
Latest posts by Dr Shane Peace
(see all)