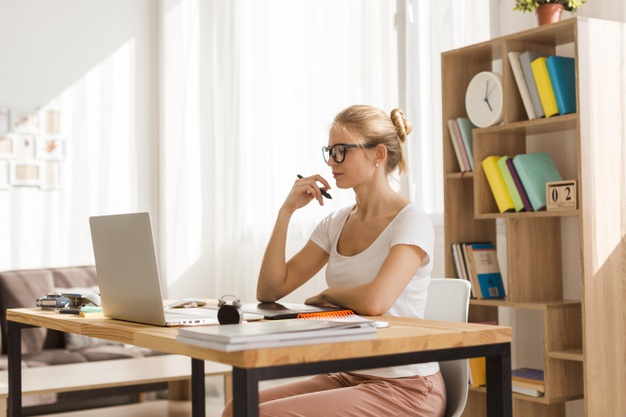 If you've been working from home and experiencing more headaches, neck strain, back aches, shoulder pain, or any other muscle soreness, poor sitting posture may be the potential culprit.
Whether you've recently transitioned to working from home due to the COVID-19 (coronavirus) lockdown or have been working at a home office for a while, we can all agree that muscle aches and pains from poor sitting posture can make working at home tremendously difficult.
Fortunately, our osteopaths at Pakenham Osteopathy have extensive experience in treating pain related to posture and work from home ergonomics.
To help you avoid uncomfortable body aches or pains from working remotely in your home office, here are our 5 steps to get the best sitting posture while working from home that you can try today.
---
At Pakenham Osteopathy, our osteopaths can help make corrections to your posture, your lifestyle habits and inform you on the best work from home ergonomics tips so that you move and feel better while working from home
---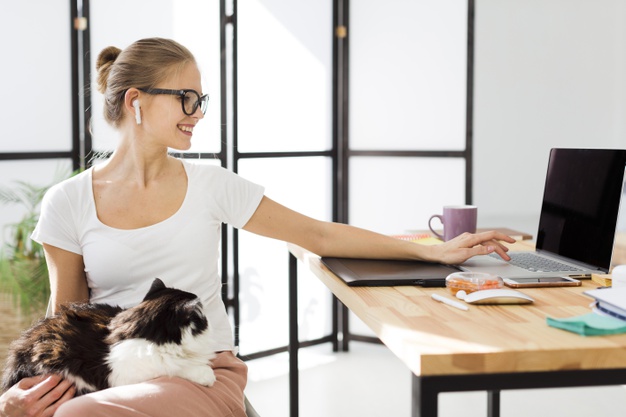 Our 5 Step Working From Home Ergonomics Checklist
To make things easier to follow, we've broken down our 5 ergonomic tips for working from home into two sections: 1) the best sitting posture while sitting on a chair and 2) home office desk and computer ergonomics.
Best Chair Sitting Posture to Avoid Muscle Pain
1. Use a chair that supports your spine
If you're looking for ways on how to avoid back pain while working from home, you should first see if you've got the right chair.
Your chair should support the natural curve of your spine (in a slight 'S' shape). If you don't have this type of chair and you aren't able to buy an ergonomic chair that features this level of back support, there are special cushions for working at home you can buy and use instead.
This helps your back from slouching and avoids leading to back pain.
2. Adjust your backrest to be straight and upright
If your chair is reclined too far forward or backwards, your neck may protrude out and cause neck strain (as well as other body aches) as you work. To avoid neck pain from sitting at your desk all day while working from home, ensure your backrest is straight and upright – almost perpendicular to the floor.
3. Make sure your feet are at 90 degrees and rest flat on the ground
Sit with your knees at a 90 degree angle or slightly higher than your hips. Your feet should then rest flat on the ground. If it doesn't reach, you can place a footrest instead. This helps to prevent and avoid hip pain by allowing your body to stay neutral and relaxed.
Home Office Desk & Computer Ergonomics
1. With your shoulders relaxed and arms bent at 90 degrees, have your elbows sit in level or slightly above your desk height
Having a desk that is too high forces your shoulders to lift up and stiffen, leading to shoulder and back pain. Also, to avoid shoulder pain when using a desk, make sure all your desk objects are in close reach so you don't have to constantly lift your shoulders and overextend your arms.
2. Level screen height with your eyes at an arm's length distance
To avoid neck pain from sitting at your desk all day staring at your computer, ensure the top of the screen is at eye level and approximately an arm's length away. If it's too far away, your neck will likely protrude out and cause pain; if too close, this will strain your eyes and may potentially trigger headaches.
If you have a laptop without a stand, you can place several books underneath your laptop to lift its height and connect a separate keyboard and mouse.
Following these 5 steps ensures your back, shoulders, neck, hip, and knees are in a natural and comfortable position, which helps prevent the onset of muscle tightness, soreness, and pain while working from home.
---
Our osteopaths provide tailored work from home posture tips, stretches, and exercise programs to get you feeling less pain and moving freely again.
---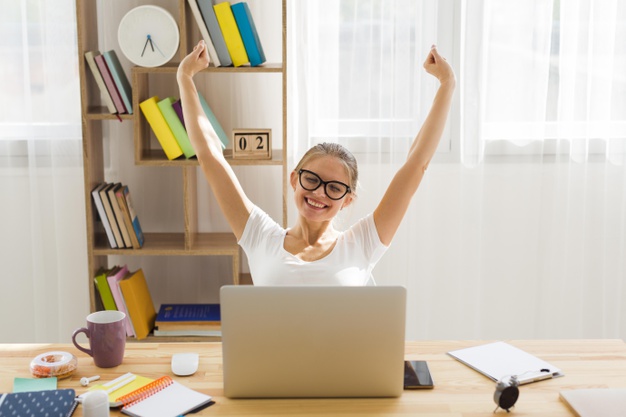 Alleviate Pain & Correct Your Sitting Posture By Seeing an Osteopath
With how busy things can get while working from home (especially during these times of the coronavirus COVID-19 pandemic) it's easy to forget about how you're sitting and ensure you're giving the body the rest it needs.
Once your back hurts while working from home, or you start to experience shoulder stiffness, neck strain, and other muscle soreness from bad sitting posture, it takes a while to get rid of the pain.
At Pakenham Osteopathy, we'll find the best working from home posture and ergonomics to alleviate pain for a healthy body. If you've been experiencing stubborn muscle soreness and pain while working from home that won't go away, get in touch to see one of our friendly Osteopaths.
Latest posts by Dr Shane Peace
(see all)