Our shoulder joints are one of the most flexible joints in our body and for good reason; we use them in almost everything that we do, which is why it can be so limiting and debilitating when something goes awry.  When we talk about the shoulder, we often immediately think of the ball and socket joint (aka the glenohumeral joint) because that's the one that provides us with most of our movement. In this article we'll also discuss the acromioclavicular joint and scapulothoracic joint.
THE GLENOHUMERAL JOINT – STRUCTURE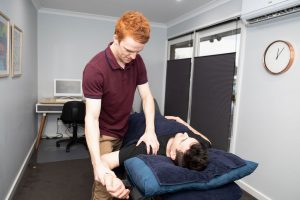 The glenohumeral joint is comprised of the head of the humerus and the glenoid fossa of the scapula (your shoulder blade).  Together, they form a ball and socket type joint which allows for a great range of motion and flexibility. This unfortunately comes at the cost of stability, which is why we have ligaments, muscles (namely the rotator cuff) and tendons to reinforce this joint and help keep everything together and functioning well.
The rotator cuff is an umbrella term for a group of four muscles (supraspinatus, infraspinatus, teres minor and subscapularis) that surround the shoulder and provide us with stability by compressing the head of the humerus into the glenoid fossa.  So it makes sense that if we keep these muscles strong it'll go a long way to keeping our shoulders stable, healthy and most importantly pain-free.
The muscles of the rotator cuff attach themselves in and around our shoulder via tendons which allow us to throw our arms about.  Protecting these tendons from rubbing up against bone and each other are fluid filled sacs known as bursa – namely, the subacromial and subscapular bursae.
Another structure that aids in creating stability is the glenoid labrum, which attaches to the margins of the glenoid fossa and creates a deeper socket for the head of the humerus to sit in.
THE ACROMIOCLAVICULAR JOINT – STRUCTURE
The acromioclavicular (AC) joint is formed by the acromion process of the scapula, clavicle (collar bone) and ligaments that keep them together.  As opposed to the glenohumeral joint, the movement available at the AC joint is far more subtle.
THE SCAPULOTHORACIC JOINT
The scapulothoracic joint is formed by the scapula and the thoracic spine and cage (ribs).  Whilst it technically isn't a 'true' joint like the glenohumeral and acromioclavicular joints, it simply refers to the articulation between the aforementioned structures.
The muscles attaching to the scapula and thoracic cage are key to maintaining healthy function of the scapulothoracic joint and there are plenty of them.  These include the trapezius, serratus anterior, latissimus dorsi, deltoid and levator scapulae muscles just to name a few.
I'm not overstating it when I say that optimal movement and function of this 'joint' is absolutely vital to maintaining the health of not just your shoulders but your spine and ribs too.  This can be achieved in various ways with an array of mobility and strengthening exercises that your osteopath at Pakenham Osteopathy will be able to prescribe for you.
COMMON CAUSES OF SHOULDER PAIN
Rotator cuff strain/tear

Rotator cuff tendonitis/tendinopathy

Subacromial impingement

Subacromial bursitis

Labral tears

Arthritis

Adhesive capsulitis

Acromioclavicular joint sprain

Glenohumeral joint dislocation/subluxation

Referred pain from the neck
Shoulder pain can be complex and often the exact source can be difficult to identify.  It's important to be proactive and seek the best possible management to get you back to full health and ensure you can continue doing whatever it is that you love; be it sport, work or just playing with the kids!
WHAT IS AN OSTEOPATH AND WHAT CAN WE DO FOR YOU?
QUALIFICATIONS & TRAINING
Osteopaths have 5 years of University training under their belt where they learn to master the difficult task of assessing, diagnosing, treating and managing musculoskeletal injury.
THOROUGH HISTORY & ASSESSMENT
Initial consultations with our osteopaths are 60 minutes long to ensure your story is heard. Every person's pain is different, so our osteopaths take the time to understand your history and the circumstances surrounding your pain.  Our questioning is thorough, ensuring we can tailor an efficient assessment to pinpoint the cause of your pain and develop an individualised management plan based on your goals.
HANDS ON TREATMENT APPROACH
Pain is often the most common reason people seek osteopathic treatment.  Therefore, there's no surprise that osteopaths continue to employ a hands on approach to help decrease pain and get you moving better.  There are a vast range of hands on techniques that an osteopath will use including:
Soft tissue massage & stretching

Joint mobilisation

Joint manipulation

Rigid and kinesio taping

Dry needling 

Shockwave therapy
INDIVIDUALISED TREATMENT PLAN
Here at Pakenham Osteopathy, we strongly believe that your understanding of your condition or pain plays an important part in your recovery.  That is why we take the time to explain your pain and provide you with a written management plan outlining your diagnosis, why it has occured, expected recovery time and anything else that is required to reach your goals.
HOLISTIC APPROACH
For many people, shoulder pain can become a recurring annoyance and can affect more than just your work.  We believe in long term success and therefore adopt an holistic approach to your injury by not only treating your pain, but also addressing the root cause of your problem.  This will reduce the likelihood of pain returning in the future so that you can live a healthy and active life moving forward.
WHY SHOULD I SEE AN OSTEOPATH FOR MY SHOULDER PAIN?
Everyone's pain is different and everyone has different goals they aspire to achieve.  We strive to treat the person, not just the injury. Whether your goals are to run marathons, muck around with the kids or enjoy your time in retirement, we take them very seriously (whilst always having a laugh in the treatment room at the same time!). These goals help us form the basis of our individualised management plan to ensure that together we are able to get you back doing the things that you love.
IF YOU'D LIKE TO KNOW MORE ABOUT SHOULDER PAIN, READ SOME OF OUR GREAT BLOGS BELOW:
https://www.pakenhamosteopathy.com.au/shoulder-pain-injury-treatment/
https://www.pakenhamosteopathy.com.au/shoulder-pain-pakenham/
https://www.pakenhamosteopathy.com.au/shoulder-joint-can-move/
Latest posts by Dr Shane Peace
(see all)