WANT HELP WITH NECK PAIN?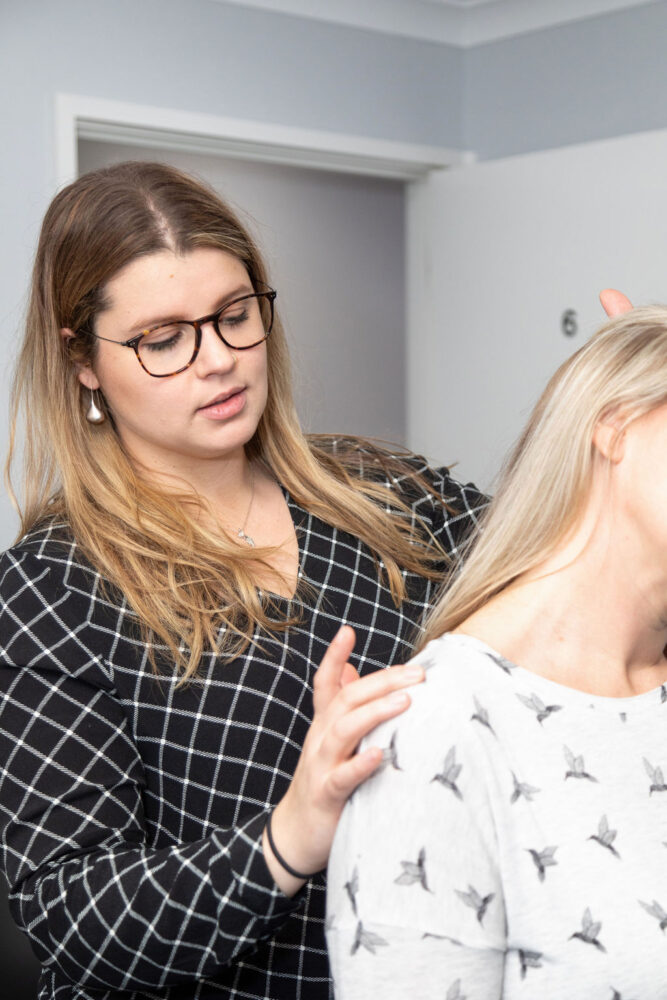 Neck Pain Treatment
DO YOU NEED RELIEF FROM NECK PAIN OR INJURY?
Around 10% of the population¹ are experiencing neck pain at any one time, so you're not alone!
A major contributor is our modern lifestyle: sitting at desks, driving, looking at phones or ipads, stress and simply, the hectic pace of life. These can all contribute to neck pain and if left untreated may result in injury.
At Pakenham Osteopathy we combine treatment modalities such as massage, stretching, joint mobilisation, dry needling and exercises to get you back feeling better sooner.
Choose Your Osteopath
OUR OSTEOPATHS ARE EXPERIENCED IN TREATING NECK PAIN AND INJURY
I enjoy treating
Postural Issues
Neck Injuries
Disc Problems
I enjoy treating
Spinal Dysfunction
Neck Strains
Chronic Neck Pain
I enjoy treating
Complex Neck Problems
Arthritis
Degenerative Neck Pain
Why Waste Time Researching?
CHOOSE YOUR OSTEOPATH AND BOOK ONLINE OR CALL AND WILL MATCH YOU WITH THE BEST OSTEOPATH TO TREAT YOUR NECK
WORRIED ABOUT THE CAUSE OF YOUR NECK PAIN?
We see ourselves not only as "engineers of the body" but also as educators. Too often clients have seen other healthcare providers but still don't know the cause of their neck pain. And we think not knowing is the worst!  We provide all clients with a written management plan that outlines the cause of their injury, a likely time frame for recovery and any exercises that may help their neck pain or injury.
WE ASK LOTS OF QUESTIONS SO WE DON'T MISS ANYTHING SINISTER!
Very rarely, neck pain can be a sign of serious disorders such as heart attack, brain haemorrhage, lung tumours and rheumatoid arthritis. Our osteopaths are trained to detect these and refer you off immediately. So if you're wondering why we spend so long taking your history, that's the reason!
HAVE YOU TRIED OTHER TREATMENTS BUT NOTHING SEEMS TO WORK?
With our combined experience of over 50 years, our osteopaths have seen just about every cause of neck pain and injury. Some of the more common causes of neck pain are muscle strains, joint sprains, disc injuries, whiplash, wry neck. We pride ourselves on getting to the root of the problem so that you stay better for longer.
DO YOU HAVE QUESTIONS?
Call 5941 4157 or talk to us via the chat box to have your questions answered straight away.
MORE ABOUT NECK PAIN
Some Statistics About Neck Pain²
Neck pain

ranks in the top 5 disorders in the United States, with 10-20% of people reporting incidents of

neck pain

Studies show

neck pain

impacts your physical, social and mental well-being2

Factors that influence

neck pain

include ergonomics at work, physical activity, repetitive movements, fitness related factors like body weight, diet and hydration and injury or illness

Osteoarthritis may be present in up to half of all

neck pain

cases in individuals over 50

Men have a higher percentage of disc problems (40%) than women (28%) in cases of neck pain in individuals aged 55-64
Chronic neck pain

, often called a stiff neck, or aching neck, or a crick in your neck, causes discomfort that lasts for days or weeks 

A study published in the Journal of Physical Medicine³ found that

neck pain

patients who received 4 weeks of physical therapy, demonstrated increased neck range of motion and decreased pain.  The control group (who received no hands on treatment) showed no difference. 
CAUSES OF NECK PAIN
There are a myriad of things that can cause neck pain however some of the more common are:
Sleep position (stomach sleepers are very susceptible to neck pain)

Desk workers

Heavy manual work

Working in awkward or confined places

Lifting weights

Working above your head

Poor posture

Trauma such as a whiplash injury

Disc injuries

Osteoarthritis

Rheumatoid Arthritis
TIME FRAMES FOR RECOVERY
Generally with neck pain in the clinic we see results within 3-5 treatments.  And often even earlier for purely mechanical problems.  
The predicament we see with neck pain is recurrence.  What we find is that when our clients are pain-free often they stop doing their exercises, and they revert to all the activities that can aggravate their neck pain such as:
Looking down at phones and ipads

Sitting at a desk 8 hours a day

Long drives to and from work 

Poor posture particularly whilst sitting 

Slumping on the couch at the end of a long day
However, we aim to give you strategies at home that can combat these activities and decrease the reliance on treatment.
TREATMENTS
We can use a variety of techniques on the neck that may assist with recovery.  These include:
Soft tissue massage

Stretching

Muscle energy techniques

Joint articulation

Joint mobilisation

Joint manipulation

Positional techniques

Postural awareness and correction
REFERENCES
1 https://www.medscape.com/viewarticle/722301_1
2 https://www.tensunits.com/blog/2018/07/15/neck-pain-statistics/
3 Am J Phys Med Rehabil. 2003 Mar;82(3):203-18; quiz 219-21. "Effectiveness of physical therapy for patients with neck pain: an individualized approach using a clinical decision-making algorithm" Wang WT, Olson SL, Campbell AH, Hanten WP, Gleeson PB.
Latest posts by Dr Shane Peace
(see all)