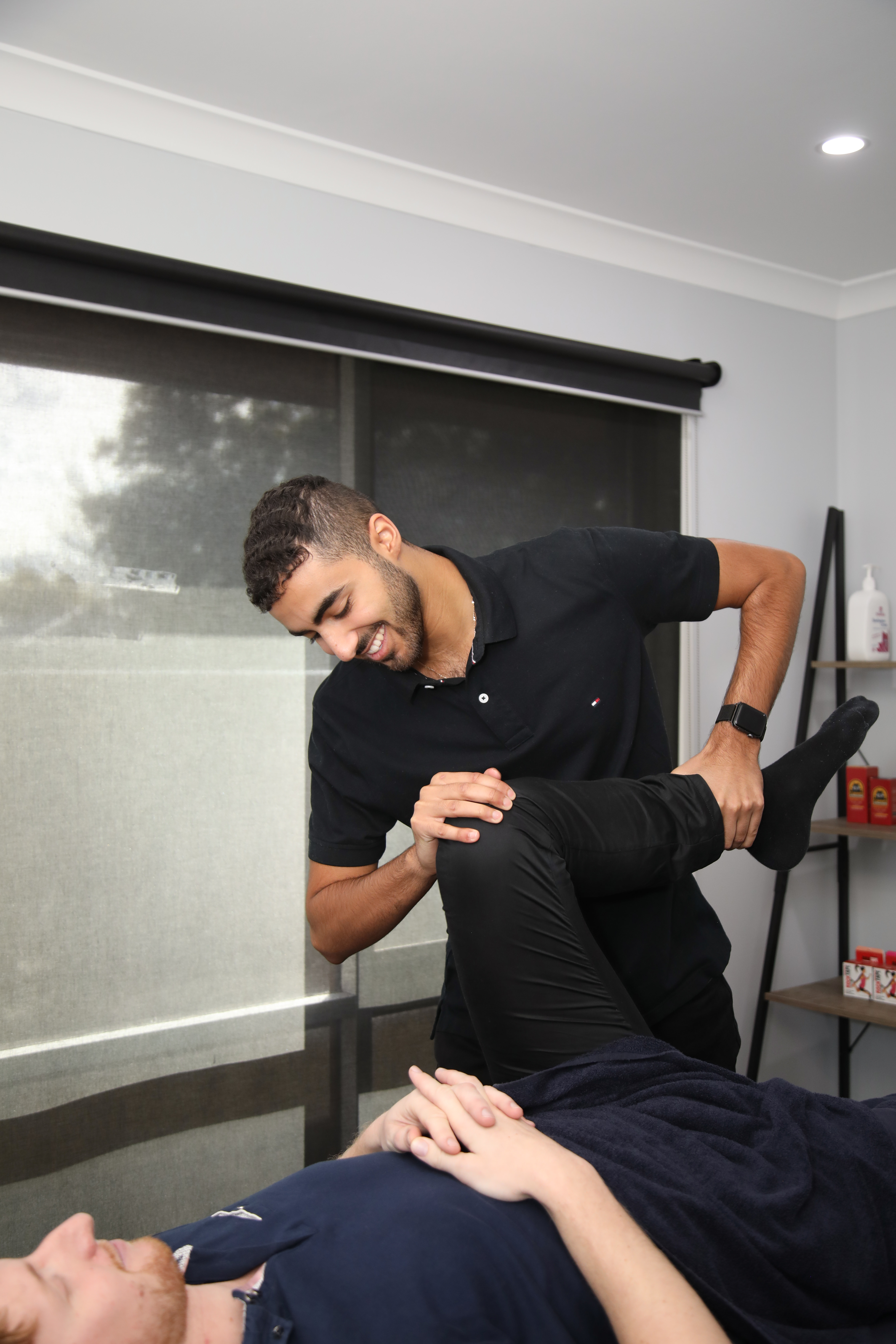 Hip Pain Treatment
FED UP WITH ACHING HIPS?
Pain in the hips is really common however the cause can be varied – arthritis, fracture, bursitis, tendon damage, muscle strain to name just a few.  
If the diagnosis is not exact, then the likelihood of recovery diminishes.  Our osteopaths have 5 years of University training to be able to assess and diagnose the cause of your hip pain.  So you are in good hands!
Don't put up with hip pain any more.  We strive for results where other treatments have failed.
Choose Your Osteopath
OUR OSTEOPATHS ARE EXPERIENCED IN TREATING HIP PAIN AND INJURY
I enjoy treating
Hip Arthritis
Decreased Hip Mobility
Osteitis Pubis (FAI)
I enjoy treating
Mobility Issues
Osteoarthritis
Hip Bursitis
I enjoy treating
Hip Tendinopathy
Arthritic Hips
Strengthening Gluteals / Lower Limb
Don't Suffer Any Longer
CHOOSE YOUR OSTEOPATH AND BOOK ONLINE OR CALL AND WILL MATCH YOU WITH THE BEST OSTEOPATH TO TREAT YOUR HIPS
IS MY HIP PAIN ACTUALLY ARTHRITIS?
If we start feeling hip pain, many of us jump to the conclusion that we have arthritis. Whilst arthritis is common in those over the age of 65 (approximately 40%), this isn't the case in younger populations. Some of the more common causes of hip pain include tendon damage or inflammation, muscle strains, bone fractures, low back pain that refers to the hip, femoro-acetabular impingement (FAI) and labral tears (damage to the casing around the joint).
SHOULD I BE WORRIED THAT MY PAINFUL HIP IS CLICKING?
There is a condition known as "snapping hip". People experience an audible 'snap' or 'pop' when moving the hip. Most commonly it is caused by tendons catching and rolling over bone. Whilst disconcerting, it is not sinister and treatment generally involves loosening off surrounding muscles and tendons and re-strengthening them.

HAVE YOU TRIED DIFFERENT HIP PAIN TREATMENTS BUT NOTHING SEEMS TO WORK?
Our osteopaths go on a fact-finding mission when assessing clients with hip pain. We use the information we get from the examination, along with the symptoms you report and the history of the condition, to discover exactly what's going on. Diagnosis is crucial to getting our clients moving and feeling better. We pride ourselves on digging deeper to uncover the truth!
DO YOU HAVE QUESTIONS?
Call 5941 4157 or talk to us via the chat box to have your questions answered straight away.
MORE ON THE HIP
ANATOMY
The hip joint (also known as the femoroacetabular joint) is made up of the head of the femur and the acetabulum of the pelvis.  Much like our shoulders, the hip joint is a ball and socket joint, meaning it is very mobile and can perform an array of movements.  These joints don't have the same stability as some of our other joints, however three strong ligaments and a big group of muscles (namely, the gluteal muscles which we'll focus on in this article) help to provide us with the stability we need when going about our day-to-day activities.
The general wear and tear of our lives can unfortunately lead to pain and can be quite debilitating, given that we require our hips in almost everything that we do.  Fortunately, there is almost always something we can do to make our hips happy and healthy again.
WHAT CAN GO WRONG AND WHAT CAN YOU DO ABOUT IT?
Osteoarthritis (OA)
Whilst it's not entirely understood why people develop osteoarthritis, it is very common as we get older – generally after the age of 40.  After all the years of running and jumping around, the cartilage that lines our joints can begin to wear away and expose the underlying bone.  Bony outgrowths, known as bone spurs can begin to develop around or within the joint and the ligaments/tendons that surround our joints can become inflamed and begin to deteriorate.
There are a number of factors that can predispose us to the development of osteoarthritis, including being overweight, previous hip injuries and a family history of OA.
The most common symptoms of osteoarthritis include:
Pain & stiffness that is typically worse in the morning or at night

Decreased flexibility or range of motion

A grating, clicking or grinding sensation
Unfortunately there is no 'cure' for osteoarthritis.  However, it is possible to manage the symptoms and improve and maintain your mobility.  At Pakenham Osteopathy, we may use a variety of techniques such as soft tissue massage and stretching, articulation, manipulation and dry needling to help you achieve this.  We may also prescribe a home based exercise program to strengthen the appropriate muscles around the hip.
Gluteal Tendinopathy
As I touched on earlier, the gluteal muscles help to provide us with the power to get around throughout the day.  These muscles are attached to the hip via a tough band known as a tendon. Occasionally these tendons can become irritated and painful, often as a result of increasing our activity levels or training loads too much, too soon.  
As with osteoarthritis, gluteal tendinopathies are more common in people aged over 40 as tendons start to deteriorate.  People who are required to perform repetitive hip movements throughout the day as part of their occupation or sport are also at a greater risk of developing microtears in the gluteal tendons.
The most common symptoms of a gluteal tendinopathy are:
Achy pain on the outside of your hip, which may get worse with activity

More pain first thing in the morning

Inability to sleep on the affected side

Tenderness over the outside of the hip
There are a lot of options when tackling a gluteal tendinopathy.  Initially, treatment is focussed on 'deloading' the tendon to give it some time to heal and settle down.  This usually involves changing your training loads or modifying your activities to avoid aggravating the tendon.  Once this has been achieved, a graded exercise program aimed at strengthening the muscles (and thus the tendons) around the hip will be implemented.  At Pakenham Osteopathy, we also offer Radial Shockwave Therapy which has been shown to be particularly helpful in the management of tendon injuries.
Bursitis
Bursa are small, fluid-filled sacs that are found all over your body and act as shock absorbers and reduce friction between bones.  The main bursa that can become problematic in the hip are the greater trochanteric bursa, which sit on the outside of your hip (near that bony bit you can feel).
Bursitis is simply the irritation and consequent inflammation of the bursa and often goes hand-in-hand with a gluteal tendinopathy.  This is due to the fact that these tendons move in close proximity to the bursa and can rub against and compress them.
The most common symptoms of bursitis in the hip can include:
Pain that can radiate into the buttock and down the leg

Pain that is worse with repetitive activity

Inability to sleep on the affected side due to pain

Tenderness and warmth over the outside of your hip
Given that bursitis and gluteal tendinopathies commonly occur together, the osteopathic approach can be very similar.  Often the focus of management will be to avoid aggravating movements/activities and gradually implement a rehabilitation program tailored towards your specific needs.
Labral Tears
A labrum is a ring of cartilage that sits on the outside of the acetabulum of your hip joint and increases its overall stability by deepening the 'socket' that your thigh bone sits in.  Tears can occur for a number of reasons but are more common in sports that require repetitive pivoting and twisting movements through the hip, such as golf, baseball and soccer. Additionally, dislocations/trauma and structural abnormalities such as bony outgrowths can put you at risk of suffering a labral tear.
The most common symptoms of a hip labral tear can include:
Pain within the hip and/or groin

Clicking, locking or catching sensations

Stiffness and limited range of motion
Activity and exercise modification is essential in the management of labral tears.  Often having your knee above waist height can aggravate your pain, so it may be important for you to avoid being in any position that requires you to do that for an extended period of time (e.g. driving).  Once your pain has settled, your osteopath may tailor a rehabilitation program aimed at restoring and improving the stability and strength of your hip.
Latest posts by Dr Shane Peace
(see all)