Headaches are one of the most common complaints in day to day life with every single person likely to experience headaches during their lifetime. 
Headaches and migraines affect more than 5 million Australians annually (71% being female and 86% being 20-60 years of age).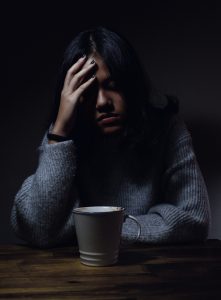 Aching, throbbing, excruciating, annoying, splitting, hangover, typical, vicious huge, constant, standard or major… how many of these words have you used to describe the pain in your head.
Whether it comes on at the end of the day, worsens when you are stressed or you suffered a hit to the head, we have all experienced some kind of headache.
WHAT CAUSES HEADACHES?
Headaches can be the result of a number of countless factors including:
Posture

Stress

Dehydration 

Lack of Sleep

Missed meals or not enough food

Alcohol

Illness (sinusitis)

Concussion

Hangovers

High blood pressure 

Neck pain

Medication overuse

Medication withdrawal

Ear infection

Panic attacks

Tight headwear

Menstruation 

Hormones

Caffeine Withdrawal 

Changes to sleep

Too much sleep

Processed foods

Trauma

Many more….
ARE THERE DIFFERENT TYPES OF HEADACHES?
According to Headache Australia, there are 37 different types of headache, each of which behave and are caused differently. Some of the most common of these headaches are listed below.
MIGRAINES
A remitting and recurrent throbbing type headache that often affects one side of the head and face and can often be accompanied by nausea and disturbed vision.
TENSION HEADACHES
The most common type of headache. A tension headache is generally a diffuse, mild to moderate pain in your head that's often described as feeling like a tight band around your head. 
CLUSTER HEADACHES
Brought about by a neurological disorder which causes recurrent and very severe headaches on one side of the head, often around the eye. Can also involve eye watering, nasal congestion, or swelling around the eye on the affected side. 
SINUS HEADACHES
Sinus headaches can include pain or pressure feeling around your eyes, cheeks and forehead which feels similar to sinusitis (infection/inflamed sinuses).
CAFFEINE RELATED HEADACHES

Both caffeine overuse and caffeine withdrawal can cause headaches in some people. 
Overuse: Caffeine can make you urinate more, potentially dehydrating you, which can result in headaches.
Withdrawal: Caffeine affects the body decreasing pain modulation in the brain and affecting blood flow. With regular use of caffeine, the body becomes accustomed to it and headaches can result from a sudden change to caffeine intake.
Headaches come in a variety of types and presentations and can often be very complex. As a result, it is important to first identify the cause of your headache in order to best manage the pain. There are many potential causes and therefore distinguishing one headache from another can sometimes be confusing.
WHY SEE AN OSTEOPATH FOR YOUR HEADACHE / MIGRAINE?
QUALIFICATIONS & TRAINING 
Osteopaths have 5 years of University training under their belt where they learn to master the difficult task of assessing, diagnosing, treating and managing musculoskeletal injury.
THOROUGH HISTORY & ASSESSMENT
An initial consultation with our osteopaths are 60 minutes long to ensure your story is heard. Every person's pain is different, so our Osteopaths take the time to understand you pain history, ask you questions to fully understand not only the causes of your pain; but also the impact it is having on your life.  A thorough assessment is then carried out to pinpoint the cause of your headache or migraine, allowing for individualised treatment plans and achieve your goals.
HANDS ON TREATMENT APPROACH
Pain is often the most common reason people seek osteopathic treatment. Therefore, there's no surprise that Osteopaths continue to employ a hands on approach to help decrease pain and get you moving better. There are a vast range of hands on techniques that an Osteopath will use including:
Soft tissue massage

Joint mobilisation

Joint manipulation

Rigid and kinesio taping

Dry needling 

Shockwave Therapy 
INDIVIDUALISED TREATMENT PLAN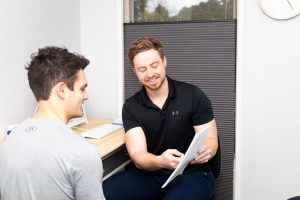 We, as osteopaths, believe that patient understanding into their cause of pain and management is vital. That is why we take the time to explain your pain and provide you with a written management plan outlining your diagnosis, expected recovery time and anything else that is required to reach your goals. This way, we avoid leaving patients confused, worried or isolated. 
HOLISTIC APPROACH
For many people, headaches and migraine can become a recurring problem. We believe in long term success and therefore take on a holistic approach to your injury by not only treating your pain, but also addressing the root cause of your problem. This will reduce the likelihood of pain returning in the future so that you can live a healthy and active life moving forward.
IN SUMMARY…
Headaches are incredibly common but also incredibly variable. There are many different types of headaches and they affect each individual differently. Some people can be bed-ridden, others can manage to work and exercise while some lose productivity when their head is in pain.  
We, as osteopaths, strive to treat the person, not just the injury. Whether your goals are to run marathons, muck around with the kids or enjoy your time in retirement, we take them very seriously (while always having a laugh in the treatment room at the same time!).
These goals help us form the basis of our individualised management plan to ensure that together, as a team, we are able to get you back doing the things that you love. 
If you would like to learn more about Osteopathy and Headaches, please read our other blogs:
https://www.pakenhamosteopathy.com.au/headache-pakenham/
https://www.pakenhamosteopathy.com.au/what-is-osteopathy-pakenham/
https://www.pakenhamosteopathy.com.au/who-should-i-see-osteopath-physiotherapist-or-chiropractor/
https://www.pakenhamosteopathy.com.au/avoiding-neck-pain-back-pain-at-your-desk/
https://www.pakenhamosteopathy.com.au/health-pakenham-2/
Images:
Photo 1 by Anh Nguyen on Unsplash
Photo 2 by Nathan Dumlao on Unsplash
Latest posts by Dr Shane Peace
(see all)