This article provides information for tattoo artists, beauty therapists, hairdressers and barbers, so if that includes you, or someone you love, read on!
---
As of December 2019 it is estimated that 14.7% (3.61) of Australians have at least one tattoo, a number that is ever increasing. It was also estimated that every month over ⅓ of Australians (8.2 million) visit their hairdresser or barber. One thing is for certain, that's a lot of people! Aside from being extremely busy, these professions have a number of things in common including a high likelihood of experiencing pain and injury.
A study of 147 hairdressers conducted in 2011 found that 86% of its participants experienced some form of pain as a result of their work. The most common of these injuries were: back pain, neck pain, shoulder and wrist pain. A similar study conducted at a Tattoo festival in Ohio (USA) in 2014 found that 94% of tattoo artists experienced back pain whilst at work as well as around 80% experiencing neck pain and headaches.
It is not surprising that pain is common in these professions given the high volume of clients that might be seen during a day as well as the constant bending, leaning and looking down that is required.  These all put a lot of pressure on the upper back and the neck. In addition, repetition of fine and intricate movements are also required. This can impact hands, wrists, elbows, shoulders and nerves.
COMMON INJURIES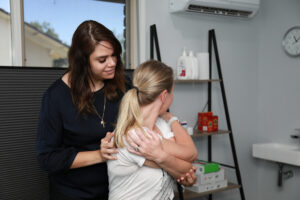 Some injuries that are common in beauty, hairdressing and tattoo artistry are:
Headaches and Migraines

Neck and back joint injuries

Repetitive strain injury

Carpal Tunnel syndrome

Muscle strains 

Postural related complaints

Tennis/Golfer's elbow

Nerve entrapment
HOW CAN YOU AVOID INJURY?
Change positions frequently while you work

Take breaks more frequently

Try different chairs (tattoo artists) or rubber mats for standing (hairdressers)

Request client to move into a different position that is more comfortable for you (adjust their seat height)

Gentle stretching and mobility exercises between clients (see our Youtube channel for ideas)

Use the mirrors to keep aware of your posture 

Maintain a healthy diet and keep hydrated

Avoid twisting and straining through wrists

Spread weight evenly through both legs

Wear lace-up supportive, non-slip shoes (not heels)

Try supportive insoles if suffering foot pain

Stand/sit closer to the client (less bending)
HOW CAN OSTEOPATHY HELP? 
QUALIFICATIONS & TRAINING 
Osteopaths have 5 years of University training under their belt where they learn to master the difficult task of assessing, diagnosing, treating and managing musculoskeletal injury.
THOROUGH HISTORY & ASSESSMENT
An initial consultation with our osteopaths is 60 minutes long to ensure your story is heard. Every person's pain is different, so our osteopaths take the time to understand your history and the circumstances surrounding your pain.  Our questioning is thorough, ensuring we can tailor an efficient assessment to pinpoint the cause of your pain and develop an individualised management plan based on your goals.
HANDS ON TREATMENT APPROACH
Pain is often the most common reason people seek osteopathic treatment.  Therefore, there's no surprise that osteopaths continue to employ a hands on approach to help decrease pain and get you moving better.  There are a vast range of hands on techniques that an osteopath will use including:
Soft tissue massage & stretching

Joint mobilisation

Joint manipulation

Rigid and kinesio taping

Dry needling 

Shockwave therapy
INDIVIDUALISED TREATMENT PLAN
Here at Pakenham Osteopathy, we strongly believe that your understanding of your condition or pain plays an important part in your recovery.  That is why we take the time to explain your pain and provide you with a written management plan outlining your diagnosis, why it has occurred, expected recovery time and anything else that is required to reach your goals.
HOLISTIC APPROACH
For many people, postural pain can become a recurring annoyance and can affect more than just your work.  We believe in long term success and therefore adopt an holistic approach to your injury by not only treating your pain, but also addressing the root cause of your problem.  This will reduce the likelihood of pain returning in the future so that you can live a healthy and active life moving forward.
If you have any questions or would like more information, please check out our website (links below), or do not hesitate to contact the team at Pakenham Osteopathy ph 5941-4157.