The hip joint is one of the most important joints in the body. Not only are the hips one of our strongest joints (bearing a great deal of our weight) but they are also one of the most flexible (second only to the shoulder).
Our hips help us to:
sit

stand

walk

run

swim

cycle

gym

drive

jump

play

dance
With all that movement and strength in one joint, it is not surprising that pain in this area can impact all aspects of our life and become frustrating or even debilitating.
THE HIP JOINT ANATOMY
The hip is a complex joint that experiences a great deal of loading throughout a wide variety of activities. It is also complex in structure and is made up of many different components.
BONES – the femur (thigh bone) and pelvic bones
ARTICULAR CARTILAGE – Decreases friction on bones
MUSCLES AND TENDONS – Support the joint and allow for motion, attaching to bones via fibrous tendons (Over 20 muscles including; gluteal muscles, adductors, hip flexors, hamstrings and quadriceps)
LIGAMENTS – Tough fibrous tissues which attach bones to bones 
JOINT CAPSULE – Membrane that surrounds the joint and filled with synovial fluid which lubricates it.
BURSA – Small fluid filled sacs that surround major joints and protect the bones, muscles and tendons against friction 
Pain in the hip may indicate that one of these structures in and around the hip joint is causing the problem, however this is not always the case. In some cases the hip joint can cause pain in other areas including; the low back, sacro-iliac joint, knee, buttocks and groin.
SOME COMMON CAUSES OF PAIN IN THE HIP
Arthritis (occurs more commonly in older age groups)
Fracture (Occurs more commonly in older age groups

Bursitis (inflammation of the fluid filled bursa)

Muscle strains

Tendon injuries (eg. Gluteal tendinopathy)

Labral injuries (damage to the cartilage)

Referred pain from the lower back or knee

Sciatica

Dislocation
Hip pain can be very complex and as a result can often be mismanaged. So it is very important to first identify the cause of your hip pain in order to best manage the pain. There are many potential reasons for hip pain and therefore distinguishing one injury from another can sometimes be confusing.
WHY SEE AN OSTEOPATH FOR YOUR HIP PAIN?
QUALIFICATIONS & TRAINING
Osteopaths have 5 years of University training under their belt where they learn to master the difficult task of assessing, diagnosing, treating and managing musculoskeletal injury.
THOROUGH HISTORY & ASSESSMENT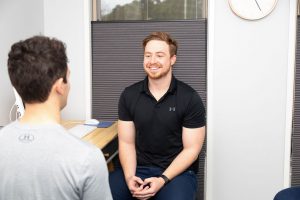 An initial consultation with our osteopaths at Pakenham Osteopathy are 60 minutes long to ensure your story is heard. Every person's pain is different, so our Osteopaths take the time to understand your history, ask you questions to fully understand not only the causes of your pain; but also the impact it is having on your life.  A thorough assessment is then carried out to pinpoint the cause of your hip pain, allowing for a tailored and individualised treatment plan.  This helps to move you toward, and achieve your goals.
HANDS ON TREATMENT APPROACH
Pain is often the most common reason people seek osteopathic treatment. Therefore, there's no surprise that Osteopaths continue to employ a hands on approach to help decrease pain and get you moving better. There are a vast range of hands on techniques that an Osteopath will use including:
Soft tissue massage

Joint mobilisation

Joint manipulation

Rigid and kinesio taping

Dry needling 

Shockwave Therapy
INDIVIDUALISED TREATMENT PLAN
We, as osteopaths, believe that patient understanding into their cause of pain and management is vital. That is why we take the time to explain your pain and provide you with a written management plan outlining your diagnosis, expected recovery time and anything else that is required to reach your goals. In this way, we avoid leaving patients confused, worried or isolated. 
HOLISTIC APPROACH
For many people, hip pain can become a recurring problem. We believe in long term success and therefore take on a holistic approach to your injury by not only treating your pain, but also addressing the root cause of your problem. This will reduce the likelihood of pain returning in the future so that you can live a healthy and active life moving forward.
IN SUMMARY, WHY SHOULD I SEE AN OSTEOPATH FOR MY HIP PAIN?
Everyone's pain is different, and everyone has different goals. We, as osteopaths, strive to treat the person, not just the injury. Whether your goal is to run a marathon, muck around with the kids or enjoy your time in retirement, we take them very seriously (while always having a laugh in the treatment room at the same time!). These goals help form the basis of your individualised management plan to ensure that together, as a team, we are able to get you back doing the things that you love. 
IF YOU WOULD LIKE TO LEARN MORE ABOUT OSTEOPATHY AND HIP PAIN READ SOME OF OUR OTHER BLOGS:
https://www.pakenhamosteopathy.com.au/back-pain-pakenham-2/
https://www.pakenhamosteopathy.com.au/buttock-pain-hip-pain-pakenham-osteopathy/
https://www.pakenhamosteopathy.com.au/a-pain-in-the-bum-literally/
https://www.pakenhamosteopathy.com.au/part-2-what-exercise-can-help-gluteal-tendinopathy/
https://www.pakenhamosteopathy.com.au/what-is-osteopathy-pakenham-2/
IMAGES
1 Photo by Katee Lue on Unsplash