School holidays are fast approaching and with overseas travel on hold for a while, many of us are choosing to jump in the car to escape.  Driving holidays can be a whole lot of fun, but if you don't manage them well, your body may suffer.  If you've ever got out of the car at your destination and had to limp a little or felt really stiff and sore, then this article is for you!
---
"Sitting in a slouched position can increase the pressure on your lower back by 90%! "
---
We've put together some of our top tips to help you avoid aches and pains if you're setting off on a driving holiday. But if you don't want to make sure you're in the best condition possible (so that pain doesn't ruin your plans) make an appointment with us before you go.
Plan your stops
Planned stops are a great way to reduce the aches and pains that come from driving for hours on end. Sitting for prolonged periods has been shown to result in back pain and stiffness. To help reduce this, add in a stop every 1-2 hours to get out, stretch your legs and even see the local area. By planning a stop, you can not only reduce your stiffness, you can also see more of our great townships and contribute to the local communities who really need the support. 
Swap drivers
A great deal of concentration is required when driving and when concentrating for hours on end your body can become tired and fatigued. To make the trip more enjoyable and safer for you and your family, swap drivers (if possible) to allow your mind and body to rest. While in the passenger seat you can be the resident DJ, tour guide and conversationalist. You will not only get to see more of the sites and possibly wildlife, it will also give your body a break and allow you to move into different positions, unlike when you're driving.
Stretches
Completing regular stretches allows for fluid drainage and an increase in tissue length.  Both of these result in decreased joint stiffness and less muscles aches. Although there is a range of stretches you can complete, the aim is to target 4 main areas: the hips, back, neck and shoulders. Stretching at your rest stops is a perfect opportunity to move your lower back and hips completing things such as leg swings front to back or side to side against the car. While you're a passenger you have the freedom to stretch your neck and shoulders while keeping the driver company (watch this video below for our 2 best neck stretches).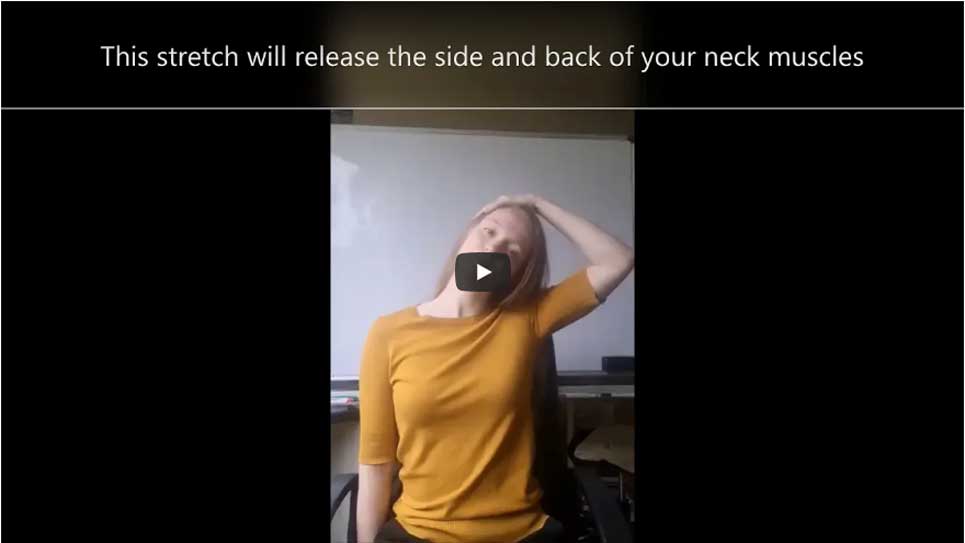 If you're the only designated driver, then one hack is to place your rear vision mirror slightly higher than normal so you are forced to maintain an upright posture.  When we tire, we tend to slouch so the mirror height will be a constant reminder to sit tall in your seat.
Nutrition and water
When driving, we sometimes forget to drink and eat in our regular routines as we are going from a starting point to our destination. It's important to schedule in breakfast, lunch, dinner and snacks ensuring we are able to fuel our body and mind. If travelling for 1-2 days you can always prepare a meal for the trip such as a sandwich or salad with canned fish for the bigger meals.
Snacks are another great way to refuel while on the road as they're quick and easy to eat. Some examples of great snacks to take is fruit, mixed nuts, raw vegetables or even a homemade trail mix with some dark chocolate buds in there. Yum!
If meal preparation is not your thing then planning your stop at the local town's will allow you to take a break in a nice café or pub where the selection of food is endless. 
Although the destination is the reason for the trip it doesn't mean you can't enjoy the journey in a safe and pain free way! For more information on strategies for your trip, come in and see us. Or if you're about to embark upon a driving holiday, make an appointment before you go so your body is in tip top shape for the journey.  The last thing you want is to have your holiday ruined because of pain!
Have a happy, safe and pain-free holiday!